100 W Alluvial Ave
Clovis, CA 93611-9176
CATEGORIES & HEADINGSdetails >>
Located in California's fertile San Joaquin Valley, Wawona Frozen Foods specializes in the growing and freezing of fresh fruits. Beginning as a small farm over fifty years ago, we continue today as a grower, processor and major supplier of fruit and fruit products. Pioneering the frozen fruit industry, this family owned company is a result of one farmer's commitment to deliver the very best fresh frozen fruit products to the market place. Wawona's success and prosperity is due to our family's commitment to excellence and continues today as a family owned and operated company. We ship more than 65 million pounds of product annually.

Wawona Orchards is a premier packer of fresh fruits that are distributed throughout America. Wawona Frozen Foods manufactures fresh frozen fruit products for food manufacturers, foodservice distributors, restaurants and resorts, supermarkets, and school feeding. Over 100 Wawona products are sold and distributed in North America.

Commitment to excellence has earned Wawona Frozen Foods a reputation of delivering superior quality, value, and service. Wawona is determined to efficiently produce and deliver the best fruit products available, and to be a valued partner in each customer's success. Wawona's "state-of-the-art" production methods and facilities ensure consistent high quality products. By choosing fruit varieties developed especially for freezing, Wawona offers fruit with delicious flavor, superb texture, outstanding color, and uniform size. Our quality assurance begins by maintaining strict agricultural practices in the orchard and continues with rigid standards for grading and inspection at every step: harvesting, processing and packaging. In addition to Wawona's laboratory testing and quality assurance, all production is subject to continuous USDA inspection. USDA inspection of fresh frozen fruit is a voluntary program paid for entirely by Wawona.

Wawona Frozen Foods offers a variety of pack styles, convenient package sizes, and economical distribution to ensure our customers receive the products desired. Technical assistance is an integral part of Wawona Frozen Foods and customers are encouraged to seek assistance in developing formulas for new products and in meeting requirements for their finished product

We invite you to continue your Website journey into the Land of Wawona. You may determine your interest by market served or product produced. You may order fresh fruit packs and/or fresh frozen fruit products for consumers or seek more information.

Vendor Showcase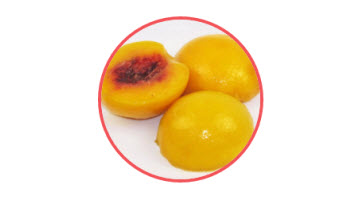 Wawona Peach Halves are handpicked to ensure you are receiving only the finest quality of fruit available. Sizing ranges from 2 inch to 2 ½ inch halves that are perfect as an ingredient or ready to eat. read more